In the world of Laserdiscs and the technology required to view them, all the major CE companies had their own machines. But if this were a sport, it would be fair to say that PIONEER, as a company, ran with the ball faster, further and for longer than any other company. Even towards the end of the format's life, Pioneer kept putting out technical innovations such as anamorphic titles (known as 'Squeeze') and 1080i High Definition. Yes, you read that correctly...that was 1080i HD, based on an early Japanese HD system, called MUSE.

They demonstrated this commitment with not only Ultra top-end machines like those described above and the top-end audiophile machines like the reference quality Elites, but also the mid-range machines that were in themselves very well specified pieces of equipment, as well as the lower range 'foot in the door' players.

Happily, The Pioneer CLD-D925 sits cheerfully at the top of a very credible pile, against the like of the Panasonic LX range and the Sony MDP-850. It was the flagship release of 1996 and brought loads of great features down into the price range of many people that otherwise just could not have had them without also stretching to the £1500 it would cost to import/buy an Elite.

In 1996, it would have set you back about £800 and it came as a direct replacement for 1994's much loved and admired (even by me, as I've got one of those too!) CLD-2950.

The 925 continued the trend of 'Play-Both-Sides' and PAL/NTSC capable replay but also brought with it AC3 audio from encoded discs and a digital frame store. All this meant that DOLBY DIGITAL was available to anyone with a demodulator or compatible AV amp, and that this machine could make even the extended play, CLV discs act like full blown CAV titles, enabling all the related trick frame capability.

Technically, the machine seems impressive. I don't pretend to understand the figures expertly well, but HCCO Magazine bench tested it and found that fine detail resolved well due to the 925's 4MHz frequency response, which was measured at -4.51dB.

A very respectable picture stability was achieved, with 4 only nanoseconds of jitter per frame.

Followed by an audio frequency sweep from 20Hz to 20Khz which measured a drop-off of only 2.5dB.

All I know is that mine puts out those numbers in the form of a very good and satisfying combination of picture and sound.

The Good Bits: What Can It Do?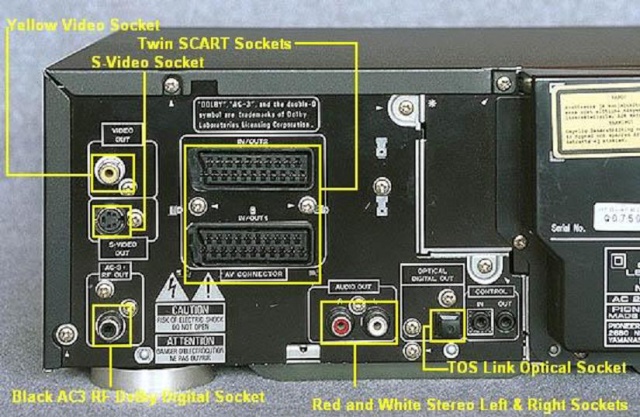 With fantastic colour and black and white picture quality, the player cannot really be faulted. It shows strong and reliable colour fidelity and clean margins. There is Little or no bleed, even on strong reds and blues and flesh tones look natural and life-like. Sonically, the audio from analogue sources is very good (be it Pro-Logic or director's commentary) and the digital audio is really magnificent. All modern PAL titles come with digital Pro-logic and the sense of separation and direction is very good indeed. But connect this baby to a compatible amp or through an RF demodulator and it just comes to life!

You will have DD5.1 and DTS that will rattle your windows and make enemies of every single on of your neighbours if you let this monster off the leash. Digital playback is phenomenal. And I'll tell you something for free, you don't half get a buzz from seeing the DOLBY DIGITAL or DTS beacons light up in your amp when you play an enabled Laserdisc.

The back is like a connection freak's wet dream, with composite, stereo L/R, S-Video and two scarts, as well as the optical out for digital sound (which includes DTS, into a compatible amp) and the magic RF-out for Dolby Digital 5.1 It also sports the patented Pioneer mini-jack remote in/out sockets.

To the left of the front panel, a small change is that there is no longer a separate power button so the machine in an 'always on' state. Other controls include the 'Quick Side-Change' button which reduces the 8 or so seconds, that it take for the laser to re-align to the B-side down to around 5 or 6. There is also the dimmer control which turns of the large LED display which can be distracting whilst you watch a film, and the HQ button. This is a digital tweak to the picture which adds a fine layer of noise reduction to the output. I actually use the machine with the HQ off as I feel it actually makes the picture worse/softer and less film like. Of all the things this machine does, I am at a wall when it comes why a company as well regarded as Pioneer would put this on to it's flagship machine??!!?

Though it is very well made, it is of course spinning a disk that is much larger and heavier than any DVD ever made, but that said, the sound is not really intrusive or jarring. It is constant and once it settles into play, becomes much less noticeable than say, the cooling fan on a PS3, which kicks into different and much noisier gears when the machine is being asked to perform at high capacity (eg gaming). If I had to really describe it, it would be a constant and soft "whoosh" rather than the increasing and demanding "GRRRRR!" of my PS3.

Though you can do all you need to at the actual machine itself, the remote is fully functional.
It also comes with a jog/shuffle wheel which allows full trick frame manipulation from the new frame store.
Final Thoughts
If I am writing this with a fair amount of rose coloured eye-ware influencing me, then I admit, it was the first player I ever bought. But by goodness, I did my homework and ended up with a really good one. A person who wants to dip their toe into the world of Laserdisc could do far worse than buying a 925! It performs well and does all the things I want it to and does them very well.

I have mentioned before that there is something of a resurgence in the popularity of Laserdisc at the moment, and the prices are really starting to shoot up. When I bought mine, it cost me a trip to Milton Keynes and £52. Now, just 10 months on and you could not pick one up in this good a condition for less than £100

I wanted one for a very long time. And now, almost a year on, do I regret buying into a 10-year-dead format in the shape of this machine?

Not a chance.
Last edited by DGTWoodward on Mon Jun 20, 2011 4:03 pm; edited 2 times in total (Reason for editing : syntax error.)