Format: Laserdisc
Studio: Paramount Studios/Pioneer
Year of Release: 1996?
TV Standard: PAL Technicolour
Aspect Ratio: 1.33:1 (4:3)
Sound: Digital Stereo
Running Time: 82mins
Discs/Sides: 1 Disc, 2 Sides, CLV/CAV
Replay Equipment:

PIONEER CLD-D925 Laserdisc Player, connected via the S-Video feed.
SAMSUNG 46" 1080p LCD HDTV (calibrated using a Video Essentials Laserdisc calibration tool)
PIONEER SR-609K A/V Receiver
Ixos Gold Tos-Link audio cable, Belkin All AV-GOLD S-Video Lead.
Eltax Speakers/sub

Movie Genre: Nuclear Threat SF Thriller.



The Movie


A brilliant green/white fireball crashes into the hill of the small U.S. town of Linda Rosa. Many think that it is very far away, but some believe that it is much closer and so, go off to investigate. They soon find a huge, red-hot, warehouse sized meteor.

In addition to the growing number of locals, a scientist from PACIFIC TECH, who by total coincidence had been fishing near by, is called to the crash site to investigate. Professor Clayton Forrestor (Gene Barry) agrees to observe. Whilst at the site, he meets Sylvia Van Buren (Ann Robinson) and her uncle, Pastor Collins (Lewis Martin). With pleasant company now established, the Professor joins them as they go back to town, waiting for the 'space rock' to cool down, and partakes of the local weekend square-dance. They leave three men on site, to make sure that there are no more brush fires.

It is just before midnight and the three Deputies notice that they can hear a strange metallic scraping noise coming from the rock, it is an unscrewing, broad metal lid which is rotating upwards out of the meteor. It eventually drops off the top of the meteor and out of the gaping hole, extends a long thin arm-appendage with a cobra-like head…it hums and glows menacingly. The three men approach with the innocent desire to make peaceful contact with the 'people' inside. The hum increases to a horrifying shriek and with a blast of super-bright white/orange light, it burns the three men to ash.

All the electrical power in town is suddenly shorted out, and Professor Forrestor soon decides that it is electromagnetic in nature and coming from the crash site. They return to it and quickly find the three charred corpses of the Deputies. After narrowly escaping a blast of the heat ray themselves, they call for help.

The military move in in force and very quickly thereafter, the Martians begin to move out of their pit in machines that they have constructed.

In a bid for peace with the non-human visitors, Pastor Collins sees his duty clearly. He bravely walks out to meet the aliens, his Bible in his hand, words of scripture on his lips, the desire for friendship in his heart.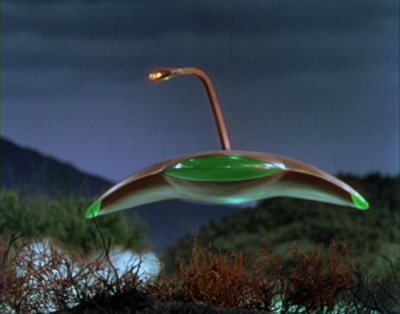 Without hesitation, the Martians burn him down to the ground. This is the death that truly triggers the war between Mars and Earth.

This film remains a favourite of mine from my childhood, and along with films like THIS ISLAND EARTH, THE DAY THE EARTH STOOD STILL, THEM, THE THING, and FORBIDDEN PLANET, it was one of the staples of my youth. I have bought at least three different version of it over the years, but this my most recent one, is my favourite version. I cannot easily explain why, it just is. This being so, in spite of the superiority of more modern versions.

WOTW is a lovely looking film, made in Technicolour, here used to great advantage. It is a very rich and colourful film. Though the actual story is really quite different in some aspect, to the book, it retains enough of the core story to essentially be an acceptable and important adaptation.



The disk comes with sleeve notes and three unrelated trailers (STAR TREK, MISSION IMPOSSIBLE and BARBARELLA)

Marks: 9 out of 10



THE DISK.


The Picture.

This has to rate as one of the best, if not the best Laserdisc transfer of a film, that I have seen. Framed in the 1.33:1 ratio, its richness of colour and sharp detail, make it a joy to watch. So much so that you can clearly see not only the wires supporting the War Machines, but also, in the one shot in the movie that shows the 'legs' of the machine, the wires that had high voltage electricity running down them to create semi-visible legs, these wires are also clearly visible.

There seems to be little-to-no print damage and the transfer has come off a great master. No kidding, this really is as sharp as my DVD copies of it.

Marks: 9 out of 10

The Sound.

This disk gives us a great digital stereo mix. The eerie sounds of the Martian War Machines and their weaponry reproduced beautifully as well as dialogue and music. Generally, a great presentation of a true classic movie.

Marks: 8 out of 10



OVERALL MARK: 27 OUT OF 30
Last edited by DGTWoodward on Thu Jun 23, 2011 5:18 pm; edited 10 times in total (Reason for editing : Cannot spell)