Format: Laserdisc
Studio: Warner Home Video
Year of Release: 1990
TV Standard: NTSC
Aspect Ratio: 1.85:1 (approx) Letter-boxed
Sound: DOLBY SURROUND on both the analogue and digital tracks
Running Time: 126mins
Discs/Sides: 2 Discs, 3 Sides, all CLV

Replay Equipment:

PIONEER DVL-909 Laserdisc Player, connected via the S-Video feed.
Phillips 47" 1080p LCD HDTV (calibrated using a Video Essentials Laserdisc calibration tool)
PIONEER SR-609K A/V Receiver
Ixos Silver Tos-Link audio cable, Belkin All AV-GOLD S-Video Lead.
Eltax and Acoustic Solutions Speakers/sub

Movie Genre: Gothic Superhero Thriller.



The Movie.


The story is very simple, it is not THE USUAL SUSPECTS in terms of complexity, and even I (a life long BAT fan) can clearly see that the more-style-than-substance criticism aimed at the film has merit. Never the less...

The police are after The Bat. A six foot nightmare that is scaring Gotham's criminals. The latest 'victims' of his crusade are wheeled away by cops and emergency teams, injured and in shock. Also hot on The Bat's heels are photo-journalist Vicki Vale (Kim Basinger) and reporter Alexander Knox (Robert Wuhl). Whilst attending a charity social function, Vale meets billionaire playboy Bruce Wayne (Michael Keaton) at his mansion. Despite their immediate attraction for each other, Wayne is called away by his butler Alfred (Michael Gough) to attend to an "urgent matter" The urgent matter is in fact a bogus operation at a factory, set up by crime lord Carl Grissom (Jack Palance) and designed to rid himself of an overly ambitious underling, Jack Napier (Jack Nicholson), that has been having an affair with his girlfriend Alicia (Jerry Hall). What Napier and his crew does not realise is that Grissom has betrayed them to the police, who show up in force and are lead by Grissom's pet cop, Lt. Eckhardt (William Hootkins). Eckhardt tells his men to shoot to kill but Commissioner Gordon (Pat Hingle) arrives, so he tries to slip away because he realises that he has been discovered.

Into this volatile mix comes The Bat, dressed from head-to-foot in black rubberised body armour and armed with a wealth of 'smoke-and-mirrors' tricks and gadgets. During the ensuing fire fight Jack and the Bat come face to face. Jack shoots at him but the bullet ricochets off an armoured gauntlet, a control panel and then back towards him. The bullet hits Jack in the face, passing straight through his flesh and bones. He stumbles around, badly wounded and falls over the rail and the Bat lunges forward and just reaches his hand. He is hanging by the one hand, over a vat of noxious chemicals. The Bat does not seem to have a very secure grip and Napier falls into the vat and is swirled away, out through the venting pipes and out into Gotham East River. Some minutes later, a hand breaks the surface of the river water, it is covered in a partially dissolved leather glove and the skin is bleached a cadaverous shade of white. So is born The JOKER.

For the rest of the film, BATMAN must use all of his cunning, his technology and a fair amount of brute force and martial arts to foil the JOKER and his plans.

There was a real buzz in the late 80s, as BATMAN was announced as having been green lit for production. But I remember distinctly, the big question about this new big screen film was...Which direction would the mega-budget production follow, camp, or straight?

The first few stanzas of the new and grandly operatic BATMAN theme music by (long-time Tim Burton collaborator) Danny Eflman finally put to rest the notion that this new version of the BAT was going to be in any way reminiscent of the 'colourful but camp' 1960s version, with its deep horns, bombastic tympani and piercing strings. No, this was to be an animal of an altogether different breed.

The very first indications that something very new was going to happen in Gotham City was that there would be the very strictest of strict "No Cameras On Set" policy during production. The feeling was good, excitement and expectation were exceptionally high.

Then the cast was announced.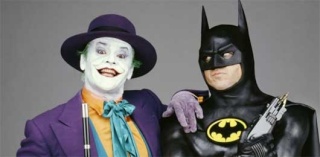 The backlash was enormous. I remember it very well indeed. It went something like this... "Who is playing the JOKER? You've got...Jack Nicholson? As the JOKER? Jack Nicholson as the JOKER! You'll be telling us that you have a comedian playing BATMAN next. Ha ha ha. What? What do you mean...you have got a comedian playing BATMAN" The lead star team of Michael Keaton and Jack Nicholson really did not go down too well at the time and so, just as suddenly as it had grown, the shine had worn off the BATMAN movie just a little, for a short while. The few pirate photos to reach the mainstream press were not really anything to go by either, being quite low quality and because they had clearly been heavily enhanced.

Then after a while, when things had actually had a chance to happen, production commenced and filming got well under way, the trailer appeared.

"I'm BATMAN" rasped Keaton in his beautifully crafted, fantastically carved Bat cowl. The rest is history. It began a two movie run that cemented BATMAN as a viable franchise for Warner Brothers and made a worldwide star of Michael Keaton. Nicholson rode the extra attention, and sat back with his fee and a percentage.

Whilst it was (rightly) assumed that Nicholson would happily chew the scenery and try to steal the whole show – an opinion that was voiced and shared by the majority in '89 – it was only a few years after Keaton left the role that people actually recognised just what a great contribution he had made and that the "just a comedian!" label was harshly applied. He made a good BATMAN, but he made a great Bruce Wayne.

Marks 78%



The Disc.


The Picture.

Considering that most of the film is supposed to take place at night, this film has a very high picture quality throughout. Because of the predominantly dark shoot, you would think that there would be a lack of colour, but the high contrast things here are stable and well presented, such as the golden background on BATMAN's chest plate, and the yellow of his belt, the light blue of Vicki Vale's dress during the museum chase sequence and the dark purple of just about everything that The JOKER wears. All are reproduced well against the dark streets and do hold stable. The sheens of shiny or wet surfaces, such as the ultra deep black of the BATMOBILE and the wet streets looks good and not blown out in anyway. Skin tones look natural (except the JOKER's). Fine details are well resolved, such as the feathered edges of Nicholson's prosthetics. A very good picture.

Mark 88%

The Sound.

The Dolby Surround on this is really quite good. It is available as Analogue and Digital with only a very little to choose between them, bar the fact that the digital track is a little bit louder and separation is a little cleaner. I suppose on that front that makes it a shade better, but there is really nothing wrong with the other track at all. There are sections where there is great broad activity to give a full and vibrant sound field, like the busy street scenes and the AXIS CHEMICALS factory attack but also, a more subdued and closer arena during the more conversational moments. During these times, the dialogue is locked firmly to the centre speaker and sounds very good for it.

Mark 80%



Overall Mark 82%
Last edited by DGTWoodward on Mon Jun 20, 2011 10:23 am; edited 2 times in total (Reason for editing : Now easier to read.)